Welcome to Positive Parenting a Free Child, the Joy every Mother and Father can Create.

Positive Parenting a Free Child provides heart-warming insights in Empathic Conflict Resolution in your family, and encourages you to set the stage for Joy.
As Ceacillea created a Path to raise your Empathy IQ you will see Empathic from here on written as EmPathIQ.
You will be invited to increase your EmPathIQ Awareness and Empathy, while nurturing the child's Free Spirit, as well as your own.
 Do you ever find yourself…..
– Wanting to let your child find out how to do something on his own,but at the same time wanting to tell him how to do it?
– Wanting to be a positive parent, but at the same time being so afraid that your child may not see the dangers of the world?
– Wondering where your child has gotten her meditations from or the stories about other worlds he tells you about.
– Screaming "No, no no!", to catch yourself later, thinking: "How awesome that she wanted to do that!", or "He knows so well what he wants."
– Yelling "Stop it! Both of you!", not knowing how in the world you will ever be able to help your children resolve their conflict peacefully.
Have you ever wished for a bag full of skills that you could just pull from at crucial moments?
Well, if that is so, you've come to the right place.
At Positive Parenting a Free Child you can fill your bag up with:
Understanding and Nurturing a Free Spirited Child
Understanding and Nurturing your own Free Spirit
EmPathIQ listening
EmPathIQ talking
7-step Conflict Resolution
Finding Joy
Being in the Here and Now
Awareness of Natural Cooperation in your Family
The very best thing is that you need to fill up
ONE bag only for ALL situations, and for ALL times!
.
That's right. Whether your child was just born or is about to move out, these skills can be used at all ages and for every other child. For your partner, family member, neighbor, colleague, employer, employee, etc.
These skills are human relationship skills embedded in our most natural, spiritual and social being. You will find specifics on the website for different needs and wants in your life and in the life of your child, and you will understand that in every situation, parent and child are only looking for
Understanding and Peace
How does this work in critical moments?
You may have had moments like the ones i remember:
The first time my baby crawled to the stairs
When my toddler grabbed a pair of scissors
When my three year old cried in the middle of the night that he did not understand why his wings did not grow
When my preschooler told me firmly he wanted to go to school by himself
When my eight year old announced he was going to make a school of his own
When my preteen joined an adult roller skating event going cross the city
When my young teenager traveled alone by plane and train
When my young adult child announced he was going to join the military….
Every time something came up i had to quickly open my bag of skills to help myself and help my children honor their free minds and spirits.
The reward is so fantastic.
You realize you are on a great spiritual journey with your children. You become EmPathIQ Aware of your Free Mind and the Free Mind of your child.
You become aware that you can create Joy in living together, that you can Resolve Conflicts Peacefully and that you can feel confident and Positive in Parenting your Free Child.
About Ceacillea Emahmn (Cielja Kieft)
Ceacillea act some times as mother to two sons and oma (grandmother) to two granddaughters and two grandsons. For over 33 years she has been a trainer for parents and teachers in communicating with children. As her own children guided her to look beyond the daily routine, she discovered a practical as well as spiritual path that gave insight in the choices parents have.
Ceacillea (Cielja) is the author of
"Learn What You Can'
Her youngest child had struggles with the regular education system and he came up with a school where he and other children could be happy.
'Acting With Toddlers'
Understanding creative role play of toddlers and their drive for fun and playfulness.
"Grateful For My New Baby'
12 Thoughts to Have for New Moms, With gratitude Affirmations!
The website is Ceacillea's knowledge inspired by her training experiences of many years. The photos are the ones of her personal life, family and friends. No photo has been taken for promotional purpose. Ceacillea wanted this website to talk about real moments, so that you can feel at home.
Being a native from Holland, and having shared the city of Amsterdam with people from 175 different countries, she embraces people of all races, all cultures, and all nations.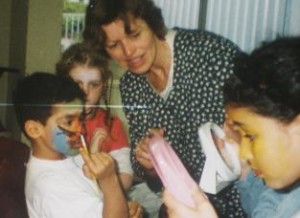 all cultures
May this website be an inspiration for every man and woman acting at times as parent, to respond from Ease, living with a Free Spirit in Understanding, Joy and Peace.
"When you smile you have a good time; when a child smiles,the whole world has a good time." Ceacillea
"You are a Spiritual Being Having a Human Experience"
Pierre Teilhard de Chardin